< Return to Product Page
Customer Reviews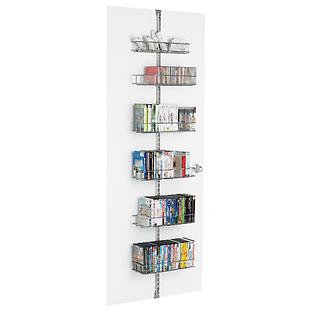 Platinum elfa utility Media Door & Wall Rack Solution
Customer Reviews
Platinum elfa utility Media Door & Wall Rack Solution
7
7
Media storage
I love these. My husband has a library of DVDs, ps3, ps2, bluerays on these. They allow him to keep everything stored correctly and they allow everything to look nice and make each one able to tell exactly which movie or game it is. They are very nice setup and you can have several rows of them for great storage
April 25, 2014
Great shelves, ONE problem
This shelving unit works great, goes on the door easily and seems very well made. It is good looking and is better than its Elfa predecessor which had individual slots for each CD or DVD -- this version's plastic separators are simpler and more flexible; and you can mix different media on the same shelf. The ONE problem is that the ends of the shelves do not fit tightly against the door -- there is about a sixteenth of an inch of play and the result is that the shelf rattles against the door as it is opened or closed. That is particularly annoying if it is attached to a hollow-core door. I fixed the problem by applying a few wraps of adhesive tape to the back loops of the shelves. Elfa could fix the problem with a small design change -- allow one end of the plastic separators to protrude far enough in the back to contact the door.
January 25, 2014
Love it!
Purchased to store cd's and wii game accessories. It is very well made and installs quickly and easily.
May 12, 2013
Geat buy!
I purchased two of these. I love them. They are great for organizing movies and cds.
April 27, 2013
I love Elfa!
I bought this for my very small pantry. It is perfect. It is very easy to install. It is sturdy...holds cake mixes, oil bottles, salad dressings, syrup and soda bottles. Loved it so much I bought one for my daughter. I am ordering a third for my craft room. Then on to my garage. Best idea ever!!
April 11, 2013
Excellent
This product is great quality and took about 5 minutes to install. It is awesome! I have wanted one for years for my pantry and now it is finally here. I love it so much I'm going back to get one for the spices for the other side of the pantry.
April 8, 2013
Easy to install
Good organization and easy to install in about 10 minutes
April 7, 2013