< Return to Product Page
Customer Reviews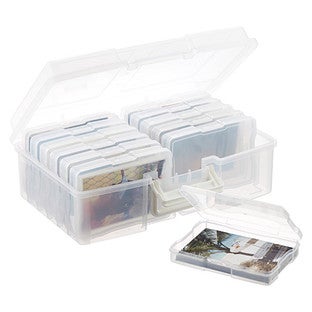 12-Case 4" x 6" Photo Storage Carrier
Overall Rating:
Customer Reviews
Rated

4.9

out of

5

 by

168

reviewers.
Rated

5

out of

5
 by
ChloeBelle
Photo Storage
The most efficient way to store 50 years worth of priceless family photos. Sorting by year or special event is easy now. No longer do I have to sort through photo albums searching for a particular photo. Have given these containers to family members as gifts.
August 6, 2011
Rated

5

out of

5
 by
StarEye
Love it!
This photo storage carrier is sleek and easy to use. I purchased this product to help me with the KonMari Method. It made organizing my photos a breeze! I just love it!
May 23, 2016
Rated

5

out of

5
 by
schnimz
absolutely perfect
I have hundreds of old printed photos that I removed from albums so I could scan and keep them in digital format. These storage boxes proved to be the perfect solution for what to do with those old photos. And now I'm inclined to store all new printed photos the same way. I like the look of photo albums but there is much to be said for the practicality of these boxes. The only dilemma now is deciding if photos should be categorized by chronology or subject.
January 24, 2016
Rated

5

out of

5
 by
meme102
Good product
I had been looking for a better way to organize my photos b/f scrapbooking them. I had been looking at this for several weeks/months and decided to go from my hanging file folder system to this and I love it! I can label the outside of each case if needed but I have made a master list of picture (events) and numbered them and label the outside of the individual cases with the numbers from the sets inside and keep that master list in the lid -- great storage!
November 17, 2015
Rated

5

out of

5
 by
Noel1cent
Excellant storage option for photos and more
I have several of these cases and use them for many items. It started with photos. I quickly realized this can store other smallish items that I have had difficulty with in the past. For my scrapbook supplies, I have one for my "bling" stuff; one for my flowers; one for my small stamps that get lost in other containers. For sewing projects, my various needles and threads, especially the embroidery floss.I also keep extras of the inside cases around for use on special projects until they are done. Each project can store all the little items needed to complete them. Can not stress enough about the usefulness of this case.
August 1, 2015
Rated

5

out of

5
 by
theredhare
PERFECT for storing embroidery floss and supplies
I keep all my embroider and needlework supplies in this carrier. I sort by color. The containers are exactly the right size for skeins of floss. You can see the colors and they don't get tangled. I always keep 1 - 2 empty cases which I use for projects on which I am currently working. Cases also good for needles, small scissors, etc. For ONCE in my life I can find if I have the correct color, not buy the same color over and over again, keep the floss neat and untangled. Such a blessing!
July 24, 2015
Rated

5

out of

5
 by
painthorse30
Best thing I've bought
I purchased this photo carrier but for something other than photos. I use it for my fat quarters of fabric. They fit perfectly and I can take them with me easily. It also keeps them clean and dry. I will definitely be purchasing another one. The inner cases hold my thread and sewing items easily. If you ever come up with a storage case like this without the inner containers and just the center divider let me know. This is the best thing I have every bought.
July 19, 2015
Rated

5

out of

5
 by
grandma7
Great Product!
Love this product. My granddaughter loves helping organizing all my pictures.
January 30, 2015
Rated

5

out of

5
 by
Norine
Great Storage for Photos
I love the 12-case 4" x 6" photo storage carriers and purchased four of them. Each photo case holds 100 pictures so I am able to store 4,800 pictures from approximately 12 thick photo albums. The space saved is amazing.
December 26, 2014
Rated

5

out of

5
 by
Arelys
Perfect Neat Place for my pictures
I started scanning all my boxes and old albums of photos to have everything available electronically. Wanted a secure, neat place to keep them instead of boxes which gather with dust. WELL the Photo STORAGE CARRIER is GREAT!!!! It is sturdy, easy to store and carry, and I love it. Now if they only came up with something for the panoramic photos.
November 7, 2014
Rated

5

out of

5
 by
RosieM
Photo Storage
I highly recommend this photo storage system to everyone. I have reduced the photo clutter and organized everything.
November 3, 2014
Rated

5

out of

5
 by
frun
Getting organized.
We have photos everywhere! It's time to get organized and get rid of all the old boxes that take up so much space. I'm looking forward to the task and, looking forward, will probably need another one!
October 14, 2014
Rated

5

out of

5
 by
Fletcher
Perfect for my needs
Great product easy access to photos. They really keep all of my photos contained in one place. Very good heavy plastic excellent product. I will be buying more soon!
September 10, 2014
Rated

5

out of

5
 by
tiger7ant
Best Photo Cases
Your photo carriers go beyond your specifications. This is the best solution for all your photos.
September 1, 2014
Rated

5

out of

5
 by
Frances2014
Wonderful purchase
This is a wonderful product to own. It keeps your pictures safe and secure.
August 17, 2014
Rated

5

out of

5
 by
DeQuin
Best idea ever
I have a ton of pictures and it keeps them together. I'm very happy.
July 20, 2014
Rated

5

out of

5
 by
lse1
photo storage
Perfect for my needs. I was combining my photos & photos I inherited from my mother & grandmother. Sorting them by dates as I identified them into these containers, made am overwhelming task easier. Now as I scan them for the family, I know they are stored safely and will be all organized for the next generation to have.
July 19, 2014
Rated

5

out of

5
 by
Shambles
Work as Designed
These photo cases work for what they were designed to do. Fun to fill with photos and keep them organized. Only problem is that for me as a scrapbooker I drag back other mementos that are too large, including postcards, airline tickets etc. I wonder whether the manufacturer would consider offering some alternative sizes. I used my label maker so it didn't matter that labels weren't included.
July 19, 2014
Rated

4

out of

5
 by
Photob
Handy Storage
On Sale, this is a good purchase (too pricey otherwise). I bought the set because it contained 6 individual containers, keeping them from ending up all over the place. My purpose was to file older extra photos (4X6) and the negatives (I did say "older"). You can store a large number of photos in each container, and the separate containers fit securely in the main box. It would be nice to have a labeling spot with each container and the box as well. Also, I had to trim some of the negatives to fit in the box, so it would be nice for the box not to be contoured as much. But it serves a purpose!
July 12, 2014
Rated

5

out of

5
 by
stazia
very nice
Love this for pics and recipes. It is sturdy/well made. Secure.
June 22, 2014
Rated

5

out of

5
 by
adkmom
FlyTie case
Saw this in store. My husband wanted these for his collection of fishing flies. He plans to put magnet sheets in them and sort his flies by states/rivers/etc
June 16, 2014
Rated

5

out of

5
 by
CocoSD
Perfect for standard size pictures
I'm reorganizing all my pictures from photo boxes into these. I think I had 8 photo boxes and got everything into 3 1/2 of these cases. My only issue is that I have some larger photos that I had to get creative with. I bought the single 5x7 photo holders and put them in a different case. I also used the larger box for old postcards. I wish there was a small case filled with the 5x7 size. I feel like my photos are much more organized and I love that the cases are clear so you can easily see what's inside.
June 9, 2014
Rated

5

out of

5
 by
NMOrganizer
Great system!
It makes organizing photos so much easier than anything else I've ever used. Just be sure you label each inner case as well as the carrier.
June 8, 2014
Rated

5

out of

5
 by
BigFoot
Great idea
I haven't had time to put pictures into the little boxes yet, but am excited about tackling that project using the 12 Case Photo Storage Carrier. I see it as the best solution for all of my photos. The carrier is perfect for keeping all the boxes neatly organized and stored.
June 7, 2014
Rated

5

out of

5
 by
profnic3
Great Product
I love my picture organizer. Its the best on the market that I could find in my search. It holds a lot of pictures that can all be organized neatly.
April 27, 2014
Rated

5

out of

5
 by
Taina
Perfect photo storage ever!!!
I love this product so much that I own THREE of these! I had so many shoe boxes where I would dump my pictures in. Some pictures would end up damaged or simply hard to find a specific one. With this photo storage system I can really treasure the memory. After sorting the pictures, I label each inner case and then place the boxes neatly on my book shelf. No more scrolling on my phone or hard drive to find a picture.
April 26, 2014
Rated

5

out of

5
 by
earbears
Great photo storage for everyone
Safe for your photos - they are kept clean and flat. Can organize by using a box for a family member, an event or a period of time (i.e. child's early years). Great item for out memories :)
April 25, 2014
Rated

5

out of

5
 by
ARSM
Awesome!
I cannot believe how many photos this carrier can hold. After years of neglecting our photos I was so happy to find that all of my photos fit in two of these carriers. I now feel so much more organized and my cabinet looks so neat!!
April 25, 2014
Rated

5

out of

5
 by
panac
A wonderful product!
I was able to take all of my pictures and organize them and what a wonderful way to keep the pictures for the future. I have bought at least four storage carriers and besides purchasing some for my daughter, I have strongly recommend others to do the same. After others have seen them , they are anxious to have some for themselves.
April 25, 2014
Rated

5

out of

5
 by
aftiggermom
Awesome purchase!
I purchased several of these to organize all of my photos safely until I could get them in scrapbooks. They are wonderful! Now I can see how my pictures are grouped so that when I begin a scrapbook I won't have to go through all of my pictures to find what I want. And I know that they are in containers that will protect them until I need them
April 25, 2014