< Return to Product Page
Customer Reviews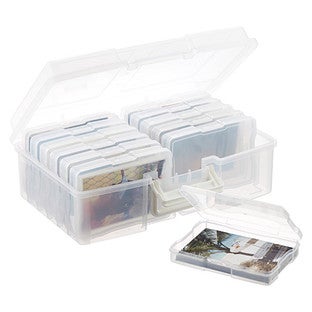 12-Case 4" x 6" Photo Storage Carrier
Overall Rating:
Customer Reviews
12-Case 4" x 6" Photo Storage Carrier
157
157
Photo Storage
The most efficient way to store 50 years worth of priceless family photos. Sorting by year or special event is easy now. No longer do I have to sort through photo albums searching for a particular photo. Have given these containers to family members as gifts.
August 6, 2011
Perfect for my needs
Great product easy access to photos. They really keep all of my photos contained in one place. Very good heavy plastic excellent product. I will be buying more soon!
September 10, 2014
Best Photo Cases
Your photo carriers go beyond your specifications. This is the best solution for all your photos.
September 1, 2014
Wonderful purchase
This is a wonderful product to own. It keeps your pictures safe and secure.
August 17, 2014
Best idea ever
I have a ton of pictures and it keeps them together. I'm very happy.
July 20, 2014
photo storage
Perfect for my needs. I was combining my photos & photos I inherited from my mother & grandmother. Sorting them by dates as I identified them into these containers, made am overwhelming task easier. Now as I scan them for the family, I know they are stored safely and will be all organized for the next generation to have.
July 19, 2014
Work as Designed
These photo cases work for what they were designed to do. Fun to fill with photos and keep them organized. Only problem is that for me as a scrapbooker I drag back other mementos that are too large, including postcards, airline tickets etc. I wonder whether the manufacturer would consider offering some alternative sizes. I used my label maker so it didn't matter that labels weren't included.
July 19, 2014
Handy Storage
On Sale, this is a good purchase (too pricey otherwise). I bought the set because it contained 6 individual containers, keeping them from ending up all over the place. My purpose was to file older extra photos (4X6) and the negatives (I did say "older"). You can store a large number of photos in each container, and the separate containers fit securely in the main box. It would be nice to have a labeling spot with each container and the box as well. Also, I had to trim some of the negatives to fit in the box, so it would be nice for the box not to be contoured as much. But it serves a purpose!
July 12, 2014
very nice
Love this for pics and recipes. It is sturdy/well made. Secure.
June 22, 2014
FlyTie case
Saw this in store. My husband wanted these for his collection of fishing flies. He plans to put magnet sheets in them and sort his flies by states/rivers/etc
June 16, 2014
Perfect for standard size pictures
I'm reorganizing all my pictures from photo boxes into these. I think I had 8 photo boxes and got everything into 3 1/2 of these cases. My only issue is that I have some larger photos that I had to get creative with. I bought the single 5x7 photo holders and put them in a different case. I also used the larger box for old postcards. I wish there was a small case filled with the 5x7 size. I feel like my photos are much more organized and I love that the cases are clear so you can easily see what's inside.
June 9, 2014
Great system!
It makes organizing photos so much easier than anything else I've ever used. Just be sure you label each inner case as well as the carrier.
June 8, 2014
Great idea
I haven't had time to put pictures into the little boxes yet, but am excited about tackling that project using the 12 Case Photo Storage Carrier. I see it as the best solution for all of my photos. The carrier is perfect for keeping all the boxes neatly organized and stored.
June 7, 2014
Great Product
I love my picture organizer. Its the best on the market that I could find in my search. It holds a lot of pictures that can all be organized neatly.
April 27, 2014
Perfect photo storage ever!!!
I love this product so much that I own THREE of these! I had so many shoe boxes where I would dump my pictures in. Some pictures would end up damaged or simply hard to find a specific one. With this photo storage system I can really treasure the memory. After sorting the pictures, I label each inner case and then place the boxes neatly on my book shelf. No more scrolling on my phone or hard drive to find a picture.
April 26, 2014
Great photo storage for everyone
Safe for your photos - they are kept clean and flat. Can organize by using a box for a family member, an event or a period of time (i.e. child's early years). Great item for out memories :)
April 25, 2014
Awesome!
I cannot believe how many photos this carrier can hold. After years of neglecting our photos I was so happy to find that all of my photos fit in two of these carriers. I now feel so much more organized and my cabinet looks so neat!!
April 25, 2014
A wonderful product!
I was able to take all of my pictures and organize them and what a wonderful way to keep the pictures for the future. I have bought at least four storage carriers and besides purchasing some for my daughter, I have strongly recommend others to do the same. After others have seen them , they are anxious to have some for themselves.
April 25, 2014
Awesome purchase!
I purchased several of these to organize all of my photos safely until I could get them in scrapbooks. They are wonderful! Now I can see how my pictures are grouped so that when I begin a scrapbook I won't have to go through all of my pictures to find what I want. And I know that they are in containers that will protect them until I need them
April 25, 2014
These are great! Can fit quite a few pictures in each small case. Seems to close tightly. Will recommend to others and buy again.
April 23, 2014
Best Place for Pictures
This is my second photo storage case. It holds tons of pictures. I just didn't realize I had so many pictures so I needed another. It can be stored away in any nook or cranny.
April 23, 2014
Great product
Great product, has a nice sturdy feel and works exactly as expected.
April 9, 2014
Storage Container
This is just what I was looking for. It is very nice and sturdy. I will order more to keep my pictures in.
February 16, 2014
Very verstile
I have several of these and only one stores photos. I use the others to store and organize scrapbooking embellishments. They are compact and easily portable, which is a great advantage when I'm going somewhere with my supplies.
February 15, 2014
PERFECTION
Ok, so the 3 large plastic shopping bags that had pictures in them....done! I love the product...all my 4x6 photos are now safe from further damage. Locks/snaps are study and secure. I'm very pleased.
January 27, 2014
Photo boxes
Thank you! This is just what I was hoping it would be. I bought it for a gift and now have decided to keep it and get the person something else!
December 15, 2013
Great way to store photos
This is a nice, solid unit and holds more photos than it looks like it would. I am very happy with the. My only complaint would be that they are a bit pricy.
November 28, 2013
Good buy. Fits Most of my pictures. I like that it is clear, so I pretty much know what pics I have without really needing to label everything.
September 15, 2013
great photo storage
I had most of my photos stored in shoe boxes in the original cardboard boxes that my prints came in, this is a much better system. Glad I found them.
September 4, 2013
Great way to organize and protect photos
I had so many prints lying around in different places waiting to be put into albums! Now we are getting ready to move and I was worried about them getting damaged. Between loose prints and old albums falling apart, I have filled two of these cases. My only con is I wish they had some bigger sizes. I was able to buy one 5 x 7 individual case but no holder. And nothing for 8x10.
September 1, 2013