< Return to Product Page
Customer Reviews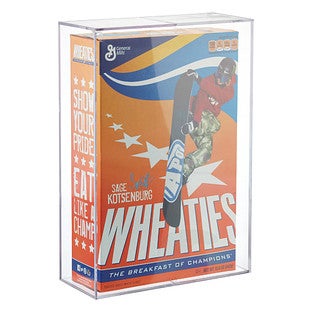 Cereal Box Display Cube
Overall Rating:
Customer Reviews
Cereal Box Display Cube
8
8
Great product. Wish that it came with some directions for opening it. I thought I would break it opening it. Once I got it open it worked great.
March 15, 2014
Cereal Box display cube
This was perfect for my husbands "Tigers" Wheaties box. I wish some instructions on how to open the cube were included. I was afraid I would break it in the process of opening. Finally got into it, inserted the cereal box, closed cube and husband wanted to see how it opened. Haven't been able to re-open. I would give the product 5 stars if I could re-open.
January 10, 2014
Great idea - needs tweeking.
I bought two sizes to display my grandson's Lego models that were very complicated to build. We measured the larger and thought the "cereal box" would be perfect, but the cited dimensions were for the exterior size, not the interior size, and we couldn't house the larger model. The "race car" was fine for the smaller model. Also, it took us considerable time to figure out how to open the boxes. A slip with instructions would be very helpful. For the right item, the boxes are great!
July 15, 2013
Super Strong and tight
I love this display cube!! Even though it's a pain to open and close, I feel more comfortable knowing that it won't accidently open up when it's picked up. I'm using it for a very valuable plate that I want to display and this fit the ticket perfectly!!
April 29, 2013
Great product for a collector's cereal box!!!!!!!!
February 18, 2013
Cereal Box Displayed Safe and Sound
I've been wishing for a display box for a very old Wheaties box and was thrilled to find this. Perfect size displays the box with no more worry about damaging it. It's difficult to get open, but that's a good thing so I know it won't fall apart when handled.
March 19, 2012
Good box
I love this. Buying 2 more. Not using it for cereal boxes but for handcrafted items. Keep in mind the inside dimensions are smaller than stated here. There is a 1/8" edging all around so you'll lose about 1/4" on height, width and depth on the inside. Still, it's a good box
September 22, 2011
Will Last Generations after Generations
Wanted to preserve a Wheaties Cereal Box from the Bulls first Championship. My oldest Son as a youngster was a huge Bulls fan. Now he is 31 years old and wanted to keep the box in perfect condition for many generations to come within the family. The Cereal Box Display Cube is AWESOME! Looks great and now I know it will be preserved for all future Bulls fans within the next generations to come. W00-H00!
February 12, 2011