< Return to Product Page
Customer Reviews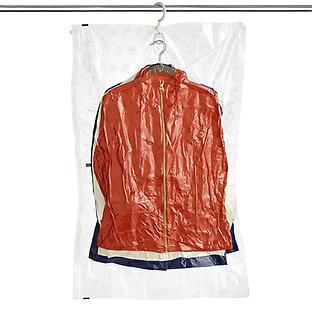 Hanging Space Bag®
Overall Rating:
Customer Reviews
This one is effective
This is the only spacebag which not only stays compressed but it's the only Space Bag which is reusable.
July 6, 2014
Never got started
As I opened this garment bag, it split along the seam next to the seal. Needless to say, I will be returning it...
June 14, 2014
Great Space Saver
The garment bag I purchased worked great. I got about 10 items in the bag and it saved a good portion of space in my closet. Note that the actual ring that you hang your clothes on inside the bag is lower than the hanger at the top of the bag that you hang the garment bag from, so if you have long items of clothes (like longer dresses or coats) the bottom portion of those items might get bunched at the bottom of the bag.
April 29, 2014
Hanging Space Bags
These bags condense all my winter clothes with no problem. They are protected from dust, dirt and bugs and they come out perfectly when it's time to wear them again.
April 22, 2014
I'm thrilled with this product.
I have a small closet shared with my husband so we leave the coats on hooks near the front door for the winter. I always dread trying to find room to store them when the season is over. I am so glad I discovered this storage bag this year. I got 4 large heavy thick coats and 2 lightweight jackets into it and now all of that only takes up a couple of inches in the back of the closet. Woo Hoo!!
April 7, 2014