< Return to Product Page
Customer Reviews
Drop-Front Shoe Boxes
Overall Rating:
Customer Reviews
Rated

4.9

out of

5

 by

239

reviewers.
Rated

5

out of

5
 by
Dinoboy
Sneaker boxs
Im a huge sneaker buff, "sneakerhead " i hate the term so sneaker enthusiasts is more my speed.These drop front boxes are absolutely the best purchase ever bcuz it it stacks neatly, they're translucent so i can find wut i want fast, n wen u hav as many shoes as i hav the wife can be a bit much on cleanliness. This product does soooo much im super happy i found out about them. .thank U ,i will get many more...Dino
February 28, 2016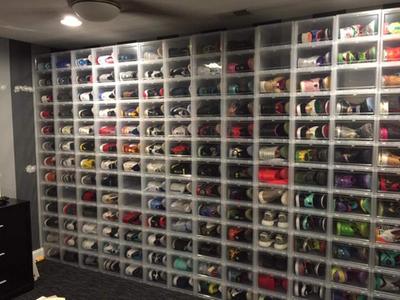 Rated

5

out of

5
 by
scotty321
Practically perfect!
Wow. I am a 40 year old man and I can't believe that I just discovered these now for the first time. I wish I discovered these many years ago. The men's drop-front shoe boxes are simply fantastic, and they fit even the chunkiest of my men's shoes. They are sturdy and protective, and the drop-down handle easily opens & easily snaps closed. They stack perfectly with no movement once they're stacked. My only minor complaint is that the very top of the boxes are more opaque than transparent, so if you're looking straight down on the box from the top, you can't really tell which shoes are inside. You actually have to be looking at your shoe box through one of its transparent sides in order to see the shoes inside. I wish that they would make THE TOP transparent as well! But besides that minor flaw, these are fantastic!
October 4, 2012
Rated

5

out of

5
 by
PeeJ
Order, convenience, tidiness
These drop-front boxes are the perfect solution for my shoe collection. With over 100 pairs of shoes, order is critical for me. The drop-front means I never have to pull another box out of a stack. I can find what I want easily, and my shoes are protected from dust and damage.
April 27, 2012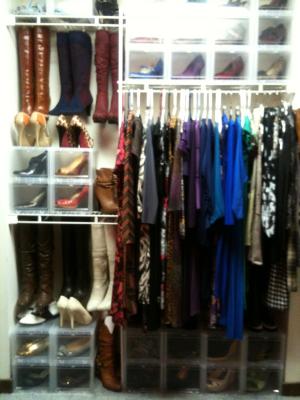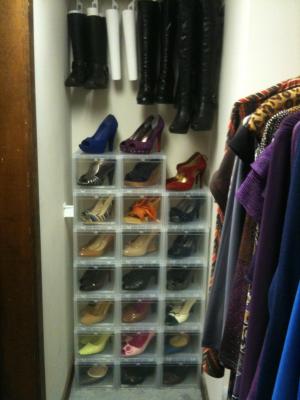 Rated

5

out of

5
 by
EddieWears3Stripes
Absolutely love these shoe boxes!!!
Stackable and look great! I love how the back and sides of these cases are semi-opaque while the drop-front is crystal clear giving you a great view of the shoes inside. This a perfect solution for getting rid of the boring look of stacked shoe boxes in my room and giving me a great way to display/store my shoes. These boxes allow me to quickly find and access the shoes that I want to wear. These drop-front boxes are great for any sneakerhead looking for a clean look in displaying their sneakers. I loved these boxes so I immediately ordered more!!!
January 14, 2017
Rated

5

out of

5
 by
Cindab
Best shoe organization
I like these shoe boxes. I love how they have the clear window so you can see exactly what's inside. I also love how easy it is to access your shoes without having to unstack boxes. I Definitely recommend these.
January 14, 2017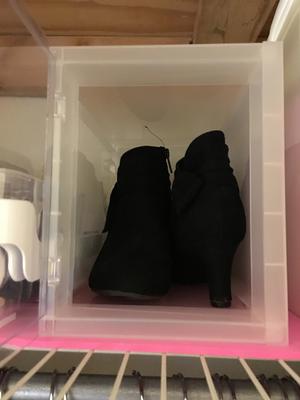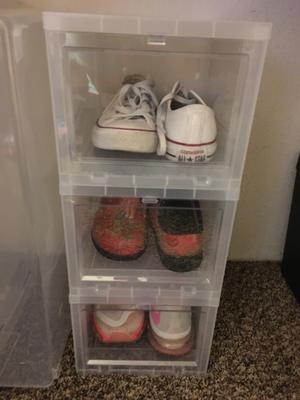 Rated

5

out of

5
 by
Jl43677
Best shoe storage boxes
For a sneaker enthusiast this is the best thing you can get to store your shoes. Before I had a problem of keeping the shoes in the original shoe boxes and I would forget about what shoes I had because they weren't visible. With these boxes they are easy to access and make it convenient. They also organize the clutter of storing shoes.
January 12, 2017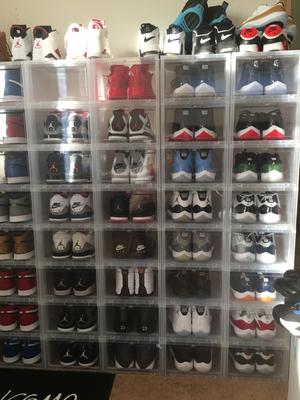 Rated

5

out of

5
 by
Kdultz
Extreme makeover
I absolutely love these shoe containers. I had so many shoe boxes stacked up in my closet and it looked very sloppy. I would definitely recommend getting these containers to make your closet something proud to walk in to.
January 12, 2017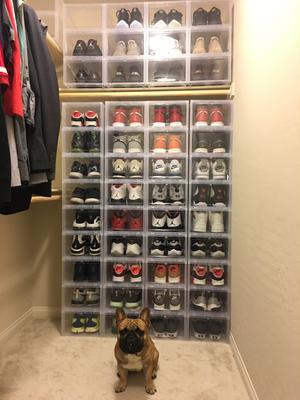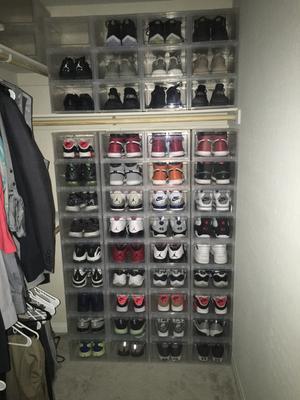 Rated

5

out of

5
 by
HiawathaCt
Great Product
I purchased some of these to help maintain my shoe collection. They are wonderful. My favorite part is that you can see your collection with out anything possibly getting to them. I have since bought enough for all my shoes. Very pleased with this product.
January 11, 2017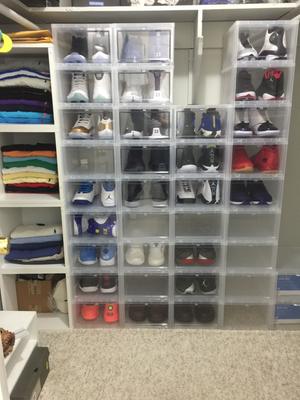 Rated

5

out of

5
 by
LosG101
Men's Drop Front Shoe Box
I'm a sneaker fiend. Granted I don't have as many sneakers as real collectors but I have about 60+ pairs, I wear all my sneakers. I hated having to remove and stack up shoe boxes after a while. My collection got so tall that one time the stack toppled over on me. I eventually saw these on a fellow collectors instagram. When she told me, I ran straight to TCS and bought 8 right away. I love these boxes. It freed so much space in room at the time. I was able to finally get to sneakers that I hadnt worn in 2+ years cause they were at the very bottom. And choosing what to wear on a day or days off, is so much quicker and easier cause of the clear window. I still have more to go on my collection but what I've already done, has been great.
January 10, 2017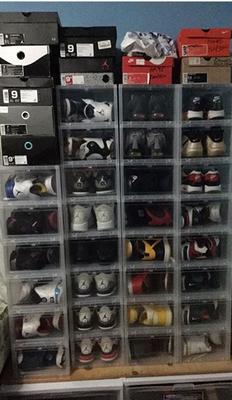 Rated

5

out of

5
 by
DaRipster
A must have for shoes
I absolutely love these containers, they're easy to stack, store and gives a professional look. When you have a lot of shoes in one room it's the best way to keep your shoes.
January 9, 2017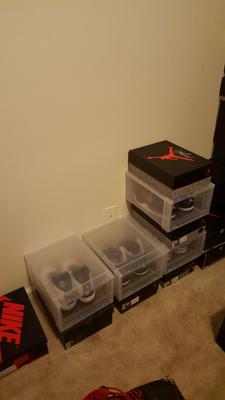 Rated

5

out of

5
 by
Smoochie
Shoe Lovers Must-Have
The drop-front shoe boxes are a must-have for those with a shoe obsession. Clearly beautiful, they nestle and stack on one another. No more messy, broken cardboard shoeboxes. No more guessing what shoes are in the box. And most importantly, no more pulling out boxes to get to the box on the bottom. The front drops down with one touch. Brilliant and Beautiful!!!
January 9, 2017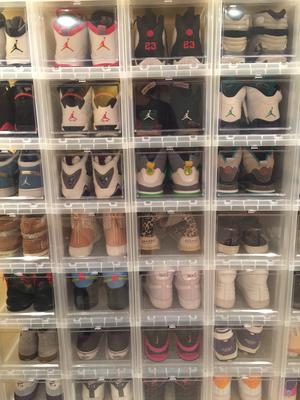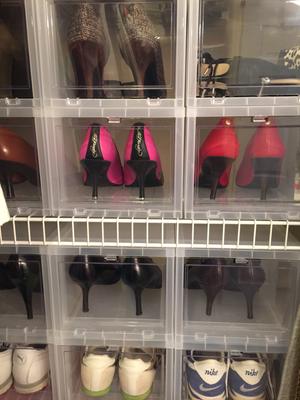 Rated

5

out of

5
 by
Sneakznbeatz
Best way to store shoes
I love this product, keeps my shoes organized and not all over my closet. Easy to get the pair of shoe that you want to get without having to take boxes off each other.
January 8, 2017
Rated

5

out of

5
 by
KeetKeet
BEST SHOE CONTAINERS OF ALL TIME!!!!!
These containers are the best for sneakerheads like myself or people with alot of shoes in general it keeps the organized. you dont have to go through the hassle of reading boxes to find a shoe to wear u can just walk up to the box and pick a shoe and start your day. Plus they are stackable so you can arrange them the way u want. They are overall a must have for a shoe lover.
January 8, 2017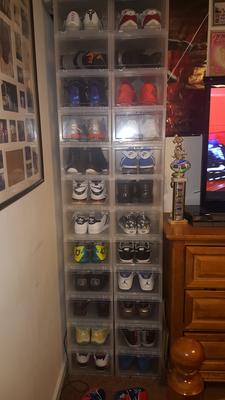 Rated

5

out of

5
 by
Luis
A must have!
These containers are the best for showing off your sneakers. So far I've purchased more than 40 so I can convert my collection of shoes. Clear drop front containers allow me to appreciate my sneakers more. I'm wearing shoes from my collection that have been trapped in cardboard boxes for years. Now I can actually see what I have. The containers stack easily and won't crush anything on the bottom. Thanks for the boxes, Container Store!
January 8, 2017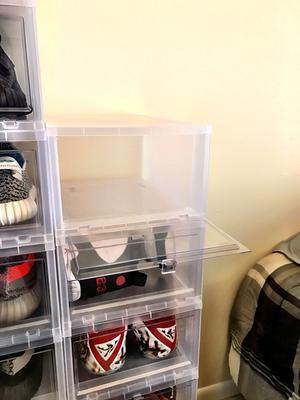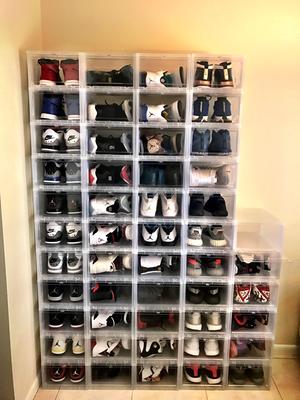 Rated

5

out of

5
 by
AlvinC
Amazing!
By far the best sneaker/shoe organization system. The way it stacks is perfect and fits almost every sneaker size. Extremely easy to remove and place sneakers in the boxes. Doesn't get messy or annoying like have multiple stacks of sneaker/shoe boxes.
January 8, 2017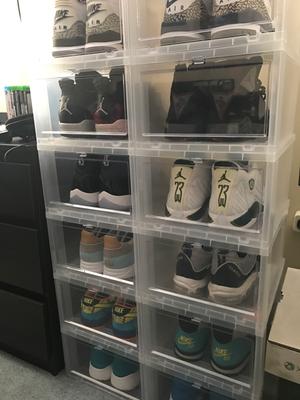 Rated

5

out of

5
 by
NNRJ
LOVE This Wonderful Storage Solution
My closet looks so streamlined and CLEAN now that I've installed these shoe boxes. It's a minimalistic way to safely store your shoes! And I love the little easy-access door. I can see straight through. I had all my shoes on racks before, but it just wasn't working for me anymore. I bought a quantity of three of the case of 6 boxes to start, but I'll be buying two more cases of 6 to finish the job.
January 3, 2017
Rated

5

out of

5
 by
Joannys
Love what i purchase
Very big and beautiful store. The lady that receives us at front was very nice. I will go back again
January 2, 2017
Rated

5

out of

5
 by
Hamzaraja13
Which they can give discount on them
I want more of them. they make the house Look so organized and keep the shoes clean no dust.. please give me a discount and I will buy 24 more
January 2, 2017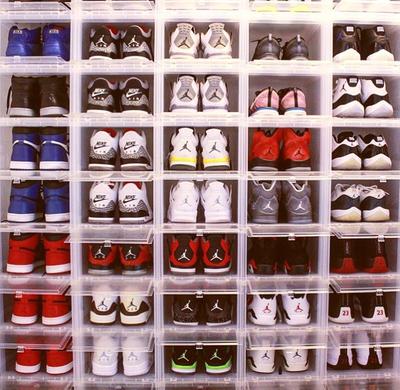 Rated

5

out of

5
 by
saiyanz
Best shoe boxes ever
These are perfect for sneaker heads that have multiple pairs of shoes. You can stack the boxes on top of each other and not have to move it around to access your shoes because of the drop front opening.
December 31, 2016
Rated

5

out of

5
 by
Electrolights
Best Sneaker "Container" Ever
Honestly for the price, this container is sick! i have bought 12 so far and need a lot more, but it will be dope once my whole collection is out of the boxes and into this see thru containers.
December 17, 2016
Rated

4

out of

5
 by
Jboogie1017
Great product for what it is.
This is really the best and easiest way of storing and displaying shoes, the only reason why I don't give it 5 stars is because the $10 per box starts to add up quickly when you have multiple shoes. Also the box is all plastic so it can become an issue as far as sturdiness since it easily break if not careful. Metal hinges and other parts could have made it the 5 star box I wouldn't mind paying the $10 for.
December 7, 2016
Rated

5

out of

5
 by
luluflo
Perfect fit!
These shoe storage containers are perfect for easy access to all your shoes when stacked!
December 6, 2016
Rated

5

out of

5
 by
Richard23
These boxes are great.
I love these boxes there a great way to display your shoe collection I plan on ordering more.
December 6, 2016
Rated

5

out of

5
 by
ripcitynick
Perfect!
I love these containers! I needed something for my always growing sneaker collection and these are perfect. When these go on sale again I will buy more.
December 5, 2016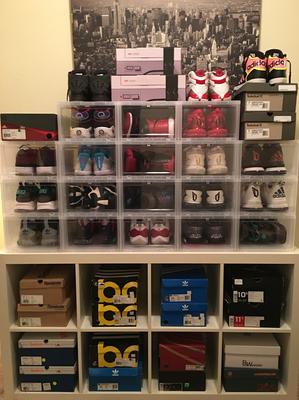 Rated

5

out of

5
 by
HappyRunner
Great
Well made and easy to use. Would recommend to anyone with shoe collection.
December 5, 2016
Rated

5

out of

5
 by
Youngneal
Great for storage purposes. For every sneaker head its very useful and keep your kicks organized
November 7, 2016
Rated

5

out of

5
 by
cstein0884
Great Storage!
I was skeptical when purchasing these online without seeing them first. I was concerned the plastic would look cheap and be flimsy. MAN, was I WRONG! These shoe boxes are AWESOME! They fit wonderfully in my closet, stack nicely, and are decently sturdy. They are also a lot bigger than they look. I can fit 2 pairs of heels in each box (stacking my shoes similar to how they are packaged in a shoe box) OR up to 5 pairs of flip flops. What a great space saver and I spent less money on getting myself organized than I expected due to being able to fit multiple pairs in each box! I've already recommended these to friends and family.
October 27, 2016
Rated

4

out of

5
 by
Nique1913
You need this
I love my new front drop panel shoe boxes. I dony have to lift shoe boxes up to get to a pair of shoes. I can completely walk into my closet and see my whole shoe collections. It makes picking out a pair of shoes so much easier now.
October 25, 2016
Rated

5

out of

5
 by
Beaman
Collector's dream
These are a must for anyone that has lots of shoes. Boxes are sturdy and stackable.
October 20, 2016
Rated

3

out of

5
 by
Lulu36
Very bulky for men's dress shoes
I like the drop door design, but I wish there was a size just a little smaller. These are more suited to men's sneakers. I'd like to see something with a lower profile for men's dress shoes that don't waste so much space in my closet. The smaller size, for women's shoes, is just a little short. The plastic drawers have a better profile, but are more expensive . The boxes with tops are a better profile and are cheaper, but access is annoying for frequently used shoes.
October 8, 2016