< Return to Product Page
Customer Reviews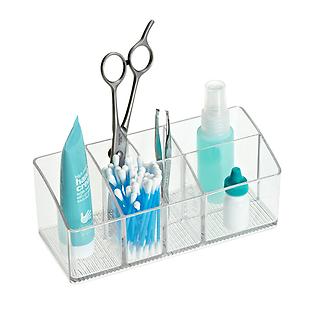 Linus Medicine Cabinet Organizer
Overall Rating:
Customer Reviews
Linusâ¿¢ Medicine Cabinet Organizer
34
34
organizer
convenient organizer, great quality; small, however, beware of dimensions
June 22, 2015
Great organizer
We remodeled our bathroom- so of course with a new medicine cabinet we wanted to get organized! I ordered 2 of these cabinet organizers and was very happy with the quality. They fit like they were made for my cabinet shelves.
February 23, 2015
big help organizing
used this for organizing my makeup & "tools" in my cabinet,. holds more than expected. love it
January 28, 2015
Compartments are Too Small
Perfect overall size but the compartments are way to small for most anything except q-tips and tweezers.
January 19, 2015
Gorgeous
Looks great on my vanity. Super organized. Goes with any décor.
June 6, 2014
Great Product
I bought 3 of these Linus organizers for my bathroom cabinet to contain my cosmetics, lotions, q-tips, etc, etc. They are very durable, pretty to look at, and now my things aren't falling over and out of the cabinet! I love that they are clear and I can see everything at a glance.
April 25, 2014
Perfect fit
I have a small cabinet in my bathroom and it fits perfectly. It holds my eyelash curler, nail file and other bathroom necessities. Great price!!
April 25, 2014
A great product!!
What a difference this small organizer made in the medicine cabinet! Nothing falling out when cabinet door opens and now everything in its place! Great product!!!
April 18, 2014
How did I live without this
Bought two of these for my medicine cabinet and it now holds 5x what it did before. With a teeny tiny bathroom I need all the storage solutions the Container Store has to offer and this is a definite winner!
April 18, 2014
Love It
I bought this organizer to fit inside of a small "utility" tote where I keep my makeup. It works like a charm. Before, my makeup bottles would fall over in the bag every day. Now they stand upright. They are easy to see and access. This oganizer is made of a very high quality material. Awesome product.
April 16, 2014
Saved my sanity!
This perfectly sized lucite organizer has transformed my precariously placed medicine cabinet items into uniform neatness and accessibility. Instead of opening the cabinet, reaching for one small item and having three others topple to the counter, VOILA - all nice and neat and secure. I bought two. Wish I had bought more.
April 13, 2014
This narrow organizer fit perfectly on the shelf in my medicine cabinet (which I thought was too small to be organized). I use it for my makeup brushes and lipsticks. I have everything at my fingertips, but not falling all over the place. Makes a big difference!
April 10, 2014
Works pretty well
This works well in a small medicine cabinet (ie - the depth is perfect) but I would prefer if the sides were a tad lower. It's hard to retrieve a 'short' item from the sections.....but overall it works quite well.
April 9, 2014
great
this one is a little small, but it does the job! it helps keep things organized.
April 8, 2014
Fits perfectly!
Really fits perfectly in a narrow medicine cabinet and helps for things to not fall out!
April 7, 2014
Excellent
It fulfills its purpose, and it's high quality. I would buy again if I needed it, but since it fits so much, while still being easily accessible, I have no need to. I was able to take my entire makeup bag, plus the things I already had in my medicine cabinet, and organize them beautifully and effectively. I feel like martha stewart!
February 9, 2014
Linus Medicine Cabinet Organizer
This organizer is perfect to store my lipsticks in a drawer. My medicine cabinet backs on a heating pipe and I had melted lipstick before I moved them.
January 9, 2014
Great Purchase
I originally purchased to house my foundations but the compartments are small. But it's perfect to use for my lip glosses, lip balms, eye pencils, lip pencils & mascaras! Yes I fit all those in there! If my collection grows I'll definitely purchase another one.
January 7, 2014
useful, great price.
Organize small objects avoid things falling out, this is a great product. Reasonable price, nice looking.
September 5, 2013
A lot of bang for the buck
This little thing makes such a difference!! I will be getting them for all of the medicine cabinets in all of our bathrooms.
April 28, 2013
I never realized how much wasted space was in my medicine cabinet until I invested in these organizers. I use a variety of the organizer styles and can fit so much more into my medicine cabinet. Since my bathroom has limited counter space and only one drawer, this makes a big difference!
April 26, 2013
Good organizer at a good price
I started buying gigantic boxes of bandages that wouldn't fit inside my medicine cabinet, so I bought this organizer to hold a few bandages for easy access. It is my favorite medicine cabinet organizer because it holds everything perfectly. The price is good, the plastic doesn't look or feel cheap.
April 26, 2013
super neat
Neat both ways 1. cool gadget 2. keeps my things tidy
April 25, 2013
Love these organizers!
Finally something helped me tame the chaos in my medicine chest. These clear bins allow you to see what you have, keep items grouped together, and allow for easy cleaning of the medicine chest.
March 18, 2013
Fits perfectly!
I came across this when I was looking for something else and decided to buy it. It fits perfectly and holds all the little miscellaneous items. Love it.
March 17, 2013
Love this! Was surprised by quality
I went back & forth on whether to order this organizer for our medicine cabinet. My fears were that at such a low cost, it must be cheap plastic that would look smudgy & dirty as soon as it was handled. I was blown away with the thick quality of the plastic used to make this product. Another nice feature that the pictures don't show is the texture of the bottom, which can help prevent things from falling over. Our medicine cabinet looks fantastic now instead of being cluttered & disorganized.
March 10, 2013
Unexpected!
I had a deep draw in the bathroom that I would throw stuff in and then could never find anything. I went looking for something to organize the draw and thought well this might work. It worked beautifully. Pleasantly surprised with how it fit in the draw and left room for larger items that didn't fit in the bin. It feels great to look in this draw and see what I'm looking for now.
February 27, 2013
linus medicine cabinet organizer
This nifty little organizer really helped to utilize all of the space in my medicine cabinet-especially those small items that seem to get lost. It helps that the organizer is clear so all items are in view.
February 17, 2013
Great Purchase
Very useful item. Great for vanity organization; especially small items. Easily able to see items you are storing. Definetly would recommend item.
March 19, 2012
Great buy!
I bought several of the Linus medicine cabinet organizers and my medicine cabinet went from being disorganized, with products constantly falling out when I opened the door, to clean, organized, with all corners of the cabinet used and space maximized. I liked it so much I convinced a friend to buy it too and helped him organize his medicine cabinet.
March 15, 2012