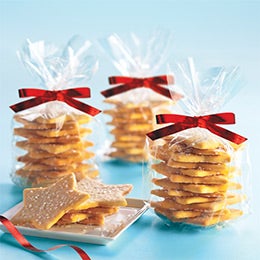 (Each bag will hold up to 12 cookies)
Shown:
Clear Gift Bags
$3.99 - $4.99

Sugar Cookies
from
Hands-On Time: 25 minutes
Total Time: 2 hours (includes chilling)
Makes 36 cookies
Ingredients
2 1/2 cups all-purpose flour, spooned and leveled, plus more for the work surface
1/4 teaspoon baking soda
1/4 teaspoon kosher salt
1 cup (2 sticks) unsalted butter, at room temperature
3/4 cup granulated sugar
1 large egg
1 teaspoon pure vanilla extract
Coarse sanding sugar or turbinado sugar (optional)
Directions
Heat oven to 350° F. In a large bowl, whisk together the flour, baking soda, and salt.
Using an electric mixer, beat the butter and sugar until smooth. Add the egg and beat until fluffy, about 2 minutes. Beat in the vanilla.
Reduce the mixer speed to low and gradually add the flour mixture, mixing until just incorporated. Shape into a disk, wrap in plastic wrap, and refrigerate until firm, at least 1 hour.
On a floured surface, roll the dough to 1/4 inch thick. Using cookie cutters, cut into shapes and place 1 1/2 inches apart on parchment-lined baking sheets. Sprinkle with the sanding sugar, if using.
Bake, switching the baking sheets halfway through, until just beginning to brown at the edges, 10 to 12 minutes. Cool slightly on the baking sheets, then transfer to wire racks to cool completely.
Store in an airtight container at room temperature for up to 1 week.