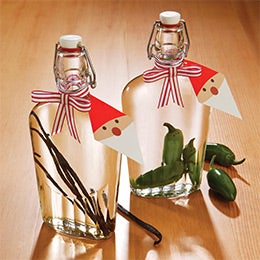 (Each bottle will hold approximately 1/2 liter of vodka.)
Shown:
Infused Vodka
from
Hands-On Time: 5 minutes
Total Time: 5 minutes (plus 1 week for infusing)
Makes 1 liter
Ingredients
1 liter vodka
Flavorings (such as 8 vanilla beans or 6 halved and seeded jalapeños)
Directions
Divide the vodka and desired flavorings among glass bottles with tight seals.
Refrigerate until the vodka reaches the desired level of infusion, at least 3 days and up to 1 week. Remove and discard the flavorings after 1 week or instruct the recipient to do so.
Refrigerate for up to 2 months.