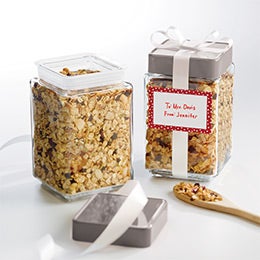 (Each canister will hold approximately 3 cups of granola.)
Shown:
Easy Granola
from
Hands-On Time: 5 minutes
Total Time: 35 minutes
Makes 6 cups
Ingredients
4 cups old-fashioned rolled oats (not quick cooking)
1 cup sliced almonds
1/2 cup shredded coconut (preferably unsweetened)
1/4 cup unsalted pepitas (hulled, roasted pumpkin seeds) or shelled sunflower seeds
1/2 cup pure maple syrup
2 tablespoons canola oil
1/2 teaspoon kosher salt
1 cup dried fruit (such as cherries, cranberries, raisins, or currants)
Directions
Heat oven to 350° F. On a rimmed baking sheet, toss the oats, almonds, coconut, and pepitas with the maple syrup, oil, and salt.
Bake, tossing once, until golden and crisp, 25 to 30 minutes. Add the dried fruit and toss to combine. Let cool.
Store in an airtight container at room temperature for up to 1 month.