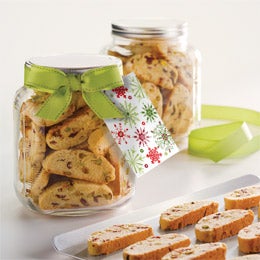 (Each jar will hold approximately 35 biscotti.)
Shown:
Cranberry-Pistachio Biscotti
from
Hands-On Time: 15 minutes
Total Time: 1 1/2 hours
Makes 40 cookies
Ingredients
2 1/2 cups all-purpose flour, spooned and leveled
2 teaspoons baking powder
1/2 teaspoon kosher salt
1/2 cup (1 stick) unsalted butter, at room temperature
1 cup sugar
2 large eggs
1 teaspoon pure almond extract
1/2 cup dried cranberries
1/2 cup shelled roasted pistachios
Directions
Heat oven to 350° F. In a medium bowl, whisk together the flour, baking powder, and salt.
Using an electric mixer, beat the butter and sugar until smooth. One at a time, beat in the eggs. Beat in the almond extract.
With the mixer on low, gradually add the flour mixture, mixing until just incorporated. Mix in the cranberries and pistachios.
Divide the dough in half and shape into two 10-by-2-inch logs. Place on a parchment-lined baking sheet. Bake until just golden around the edges and firm to the touch, 22 to 25 minutes. Let cool for 30 minutes.
Reduce oven temperature to 300° F. Using a serrated knife, cut the logs into 1/2-inch-thick slices. Arrange in a single layer on the baking sheet. Bake until dry and crisp, 15 to 18 minutes per side.
Store in an airtight container at room temperature for up to 3 weeks.