San Francisco
We're located on Fourth Street, on the right, between Market and Mission.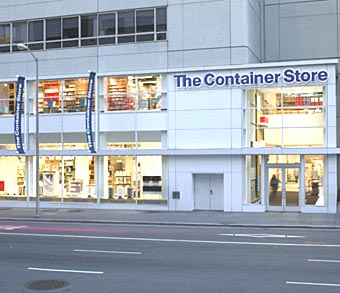 26 Fourth Street
San Francisco, CA 94103
(415) 777-9755
Mon-Sat: 9 am - 9 pm
Sun: 11 am - 6 pm
Pick-up and Parking Information »
x
San Francisco Pick-up and Parking Information
Customer Pick-up Phone Instructions
• To pickup your order from our parking garage, enter the garage on Fourth Street, just past our store on the right side of the street.
• Upon entering the garage, stay left toward Public Parking and continue down to level G2.
• Turn left on G2 and look for The Container Store signs.
• Use the courtesy phone to contact our store.
• Please allow 10 minutes from the time you place the call for your order to be brought to your car.
• When your order arrives, please have your receipt ready for our employee to verify.
• If the phone is not operating, please call us at (415) 777-9755.
In-Store Events
HAVE FUN GETTING IT DONE!
Join us for ALL NEW expert demonstrations Saturdays and Sundays, February 22 through March 23.
2:00 pm and 4:00 pm Have Fun Getting It Done! Get Your Office Organized!
We'll give away one $20 Store More Card at each demonstration!
Off to college?
College bound students and their parents can enjoy Special Savings during our exclusive 2-Week College Savings Event, 7/19/2014 through 8/3/2014
Click for Details
In-Store Services
Click and Pickup
Order online and pickup your order in our store.
Call and Pickup
Call 800-733-3532 to place an order to pickup at our store.
Call and Deliver
Call 800-733-3532 to place your order for delivery! Specific delivery areas only.
Installation Service
Let us do the work for you! New lower pricing on elfa Installation. Learn more »

From weddings to graduations, our multifunctional products always make the perfect gift!
Learn more »


See All Stores

Hide All Stores


Close
Send Store Info

Close
Send Store Info
Enter your mobile phone number